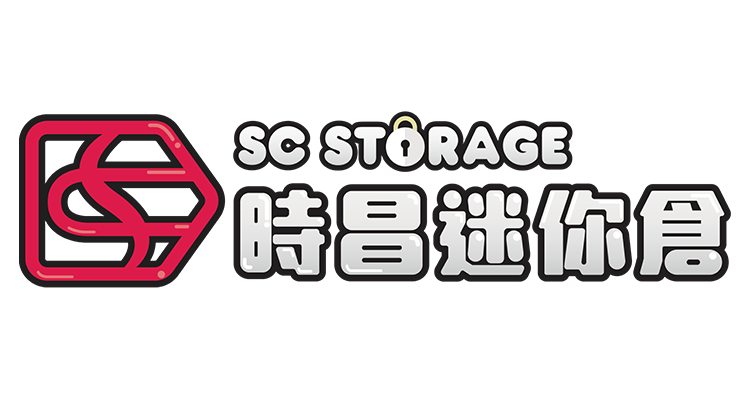 SC Storage
SC Storagewas established in Yau Tong Industrial Building in 2001. It is a leading low-cost storage warehouse in Hong Kong where land is valuable. It has various types of warehousing services tailored for users if different needs, such as warehousing services for individuals or businesses. It has more than 60 branches and 18,000 customers in Hong Kong and Macao.
SC storage had an advertisement on TV in 2007, and its phone number (+852) 8177 7778 is remembered by many people. The way it used to run commercials on TV had excellent results in the past, but with the development of Internet technology, it experiences difficulties in attracting new customers. SC storage began to transform electronically and empathizing on online marketing by using dumbChat to reach more potential customers online.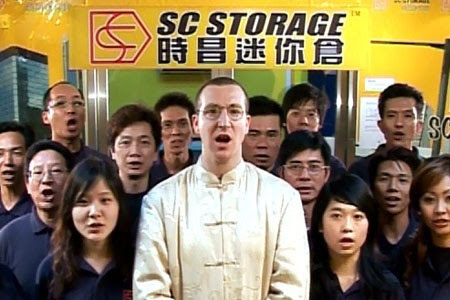 Connect Multi-Platforms with One Interface,No Longer Miss Any Customers
SC Storage provides services in many places, and customers also contact it through multiple channels such as phone calls, WhatsApp、 company website、Facebook messengeretc. SC Storage's customer service representatives of said they often have to use multiple platforms and have to switch between them to work, as a result, they occasionally fail to respond to customers' questions in a timely manner, and missing the best time to reply to customers. Customer dissatisfaction with customer service efficiency will easily lead to the loss of customers.
After using dumbChat, SC Storage's customer service representatives no longer need to switch between multiple platforms all the time. dumbChat supports multi-platform login, and enable customer representatives to handle customers from multiple platforms on one interface at the same time. Not to mention significant improvement in work efficiency of customer service representatives, SC Storage no longer worries about missing customers' messages.
After using dumbChat, customer service representatives no longer need to switch between multiple interfaces, we can reply to customers with one single interface!!

-SC Storage
Keyword Automatic Reply, Need Not to Reply Repeated Questions Manually
The person in charge of SC Storage said that they often receive repeated questions. New customers always ask questions such as address and opening hours of the storage company, working hours of customer service, the rental of warehouses, etc. These questions were asked by most of the customers, and the answers are basically the same. Every time a customer comes to ask, the customer service always needs to spend time to deal with these repeated questions which may affect work efficiency of the customer service representatives.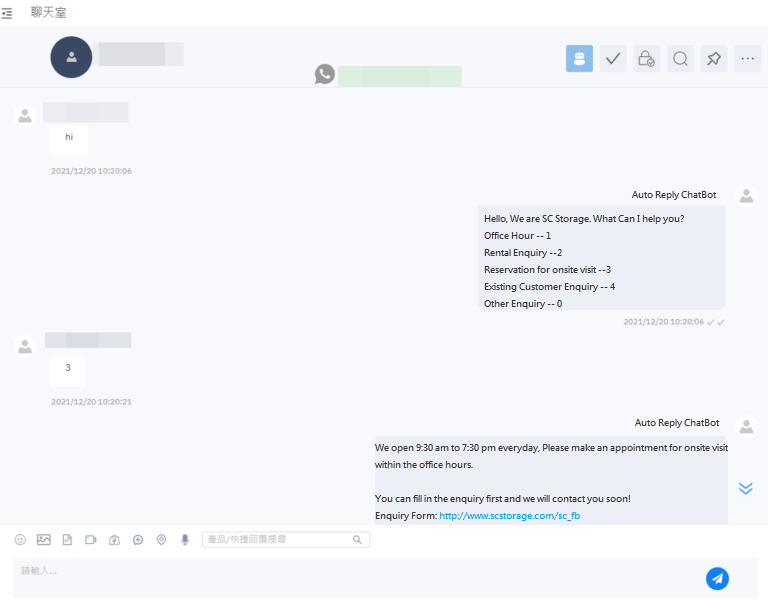 dumbChat's keyword auto-reply perfectly solves this problem. dumbChat can set auto-replies to questions with certain keywords. When the customer's inquiry hits those keywords, it will automatically reply with the relevant information, and even google map locations can be sent directly to the customer. Customer service no longer needs to spend time on these tedious issues, and hence reducing customer service workload by over 30%.
Quick Reply and Collaboration function,Improve Customer Service Efficiency
SC Storage's customer service representative may sometimes encounter problems that are difficult to solve by using automatic reply. For example, customers may ask questions such as switching warehouse, charges, contracts, order inquiries and so on. Although the answers are also basically the same, the reply to each customer's message will be different. Customer service representatives need to spend time searching for orders and may lead to delay in replying to customers.
With dumbChat's quick reply feature, customer service representatives can quickly refer to the preset message content or customer order information by simply entering "/" or the corresponding keyword in the dialog box. It improves customer service representatives' efficiency and shortens the waiting time of customers. It may take 2-4 minutes to reply to customers' inquiries initially, but after using dumbChat, they can reply within 1 minute, which significantly enhance customers' satisfaction with SC Storage's service.
dumbChat AI is useful! When dumbChat was not implemented in the past,we need to check each order manually if there are customers inquiring about their orders. After using dumbChat AI, we can automatically reply to the customer's order after customizing the keyword, it greatly reduces the customer services' workload by over 30%!

-SC Storage
Summarize
SC Storage started to use dumbChat in 2020. It mainly uses dumbChat's automatic reply, keyword quick order query, multiple login and other functions to help solve customer service problems. SC Storage also hopes that dumbChat can add more functions, such as an appointment system so that customers can directly make an appointment to reserve the time and place to visit the warehouse. While dumbChat will continuously improve its own functions, assist companies to establish more complete and streamlined workflow, and better maintain the relationship between companies and customers.
Read More>>
"Tung Wah Moving Service Co. Ltd. " Multiple-Login functions, Process Customer Inquiries at the Same Time | Customer Experience
"Travel Pop" Website Products are Automatically Included, Quickly Sent Product Information | Customer Experience
Last Updated on 2022-07-22