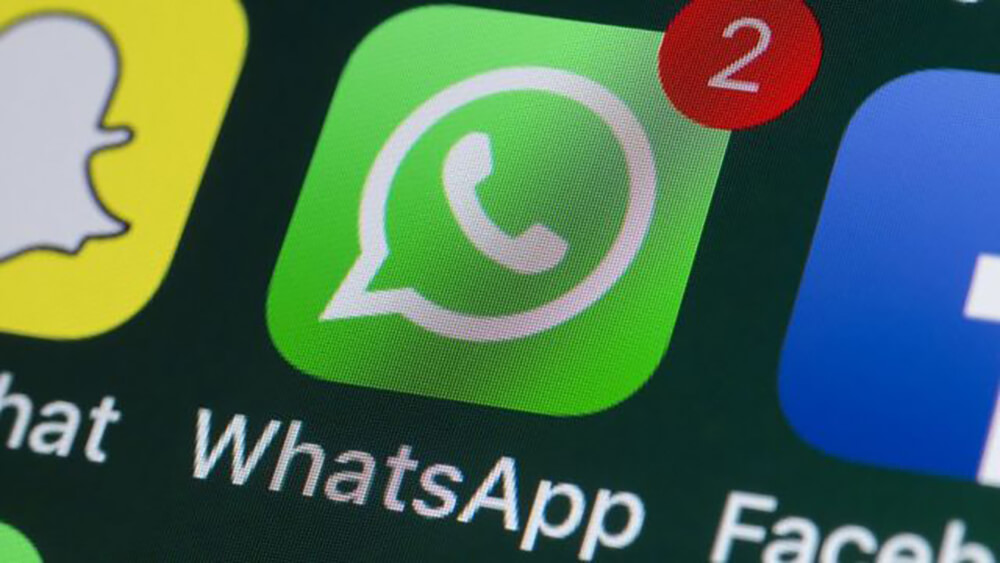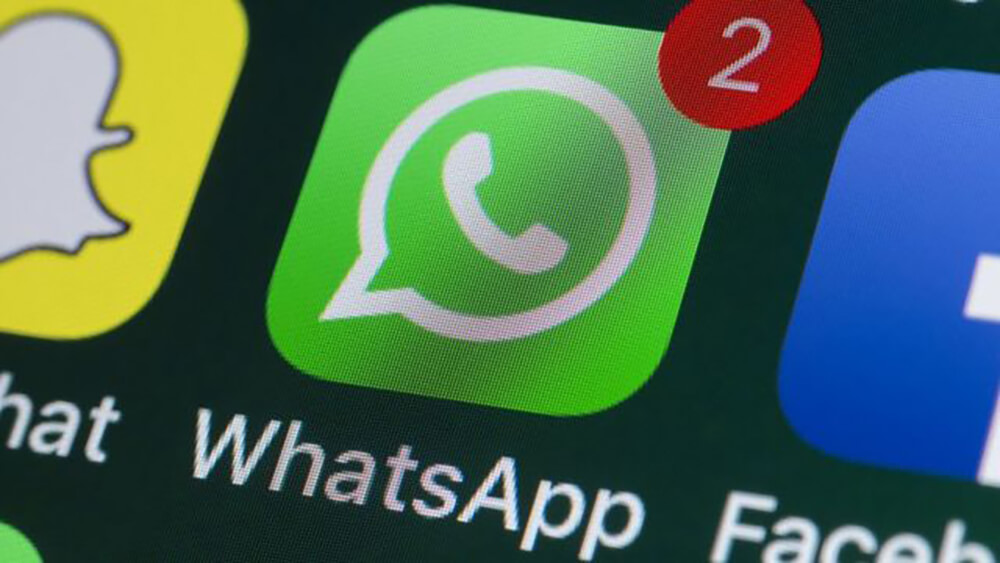 WhatsApp has the largest number of users in Hong Kong. In 2022, the number of WhatsApp users in Hong Kong has reached a whopping number of 5.94 million. Businesses inevitably use WhatsApp for marketing. In this case, it requires sending advertising messages to customers on WhatsApp. After all, broadcasting messages through WhatsApp groups may seem insincere. While WhatsApp does have a broadcasting function, there are many restrictions. However, you will still be able to send advertising messages easily on WhatsApp.
dumbChat.AI is a system that connects and integrates your social media and instant messaging accounts such as WhatsApp, FB messenger etc.. The intelligent robot can quickly respond to customer needs, automatically process orders and speed up transactions. Click here for pricing details.
WhatsApp Broadcast 
What is a WhatsApp Broadcast List?
WhatsApp broadcasting is a user-friendly feature available on both WhatsApp Personal and WhatsApp Business. Before sending, you need to create a WhatsApp broadcast list, after which you can send the message to the contacts in the list all at once. Moreover, this list can be used repetitively and will not disappear after broadcasting. The broadcast list can be renamed and edited such as adding or deleting contacts and so on.
Creating a WhatsApp Broadcast List
WhatsApp broadcasting can be used on both Android and iOS with slight differences in the user interface. On iOS, this function is in the top left corner of the WhatsApp interface under "Broadcast Lists". On Android, it can be found in the menu options in the top right corner, then select "New Broadcast".

After selecting, you may choose the customers you want to send the advertising messages to. After that, click "Create" to successfully create a broadcast list. You can only send broadcast messages once you have added their contacts. A broadcast list can accommodate 256 contacts at most.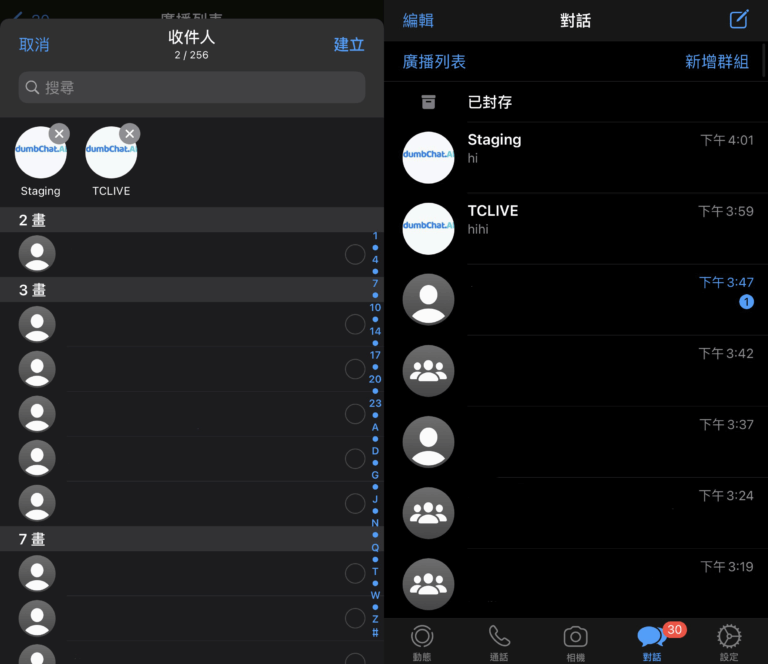 Once the desired contacts are added to a WhatsApp broadcast list, you can send text, stickers, voice messages, videos and other messages. If the recipient has your phone number saved in their contacts, they will receive the broadcast message just like a regular conversation. The recipient will not be aware that you are using the broadcast function and their replies will appear in a separate conversation.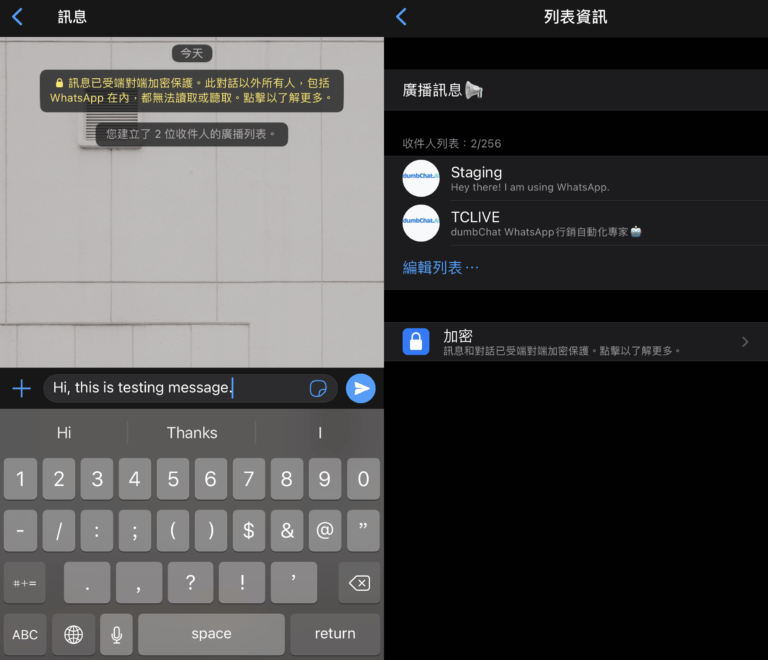 Editing a Broadcast List
After using the broadcast list, it will be saved and can be reused for next time. Users can also edit the WhatsApp broadcast list. Click on the three dots in the top right corner to access the broadcast list, where you can modify the list name and add or remove contacts.
Deleting a broadcast list
If a broadcast list is no longer in use, you can also delete it by long-pressing the list and clicking the delete icon.
WhatsApp Broadcast Limitations:
A broadcast list can accommodate up to 256 contacts, which means a broadcast can only be sent to 256 people at most. If this number is exceeded, another WhatsApp broadcast list will need to be created.

Messages sent to each contact are identical and cannot be personalized;

If a contact does not have your phone number saved in their phone's contacts, they will not receive the broadcast message.

Sending a large number of advertising messages at once may lead to your WhatsApp account being banned by WhatsApp.
Learn more::Getting banned by WhatsApp? Here are a few steps to get you unbanned!
Broadcasting on dumbChat 
WhatsApp's broadcast function has limitations that can be inconvenient for businesses. There are limitations on the number of recipients, lack of message personalization and the requirement for contacts to have the sender's phone number saved in their contacts. In contrast, dumbChat's broadcast function does not have these limitations.
WhatsApp's broadcast function was not originally designed for commercial activities but for personal use. Therefore, many of its features are not suitable for businesses. To overcome these limitations, businesses could use dumbChat's broadcast function, which is designed specifically for business use.
Advantages of dumbChat's Broadcast Function:
dumbChat supports broadcasting messages across different platforms such as WhatsApp, SMS, Email, and Facebook, allowing simultaneous broadcast on multiple platforms.

dumbChat's broadcast function supports sending various media types, including images, videos, emojis, documents, product links, geographical locations and VCards.

dumbChat can quickly identify customers through tagging, without needing to manually add contacts one by one on WhatsApp.

Before sending a broadcast, you can send a test message to yourself and preview it to ensure message accuracy before sending;

Unlike WhatsApp, dumbChat allows personalized messages for each customer by addressing them by name, making customers feel valued.

Messages can be sent to customers even if their phone contacts do not have the sender's phone number saved.

dumbChat does not have limitations on the number of recipients.

dumbChat could send broadcast messages in batches, reducing the risk of WhatsApp accounts being banned.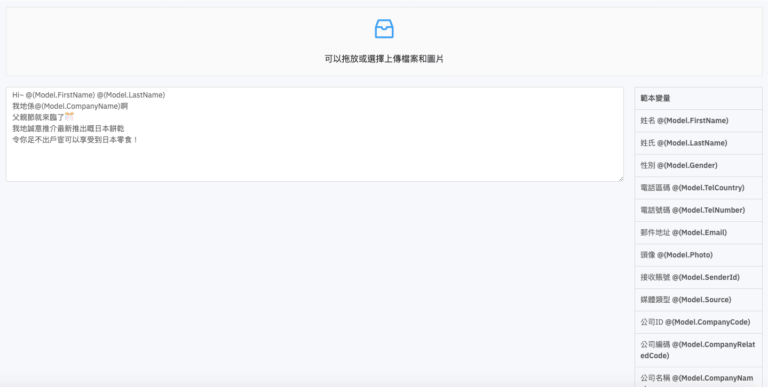 How to Use the dumbChat Broadcast
Function
Step 1: Click on the broadcast icon on the left to enter the broadcast page.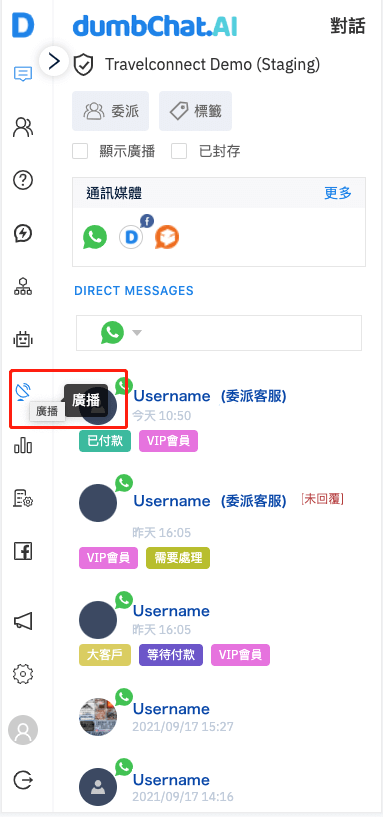 Step 2: Click "Add" to create a new broadcast.
Step 3: Fill in and schedule the broadcast message and click "Save".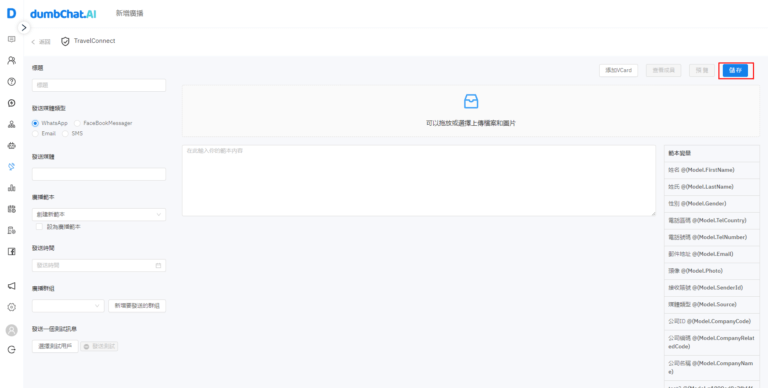 Step 4: Wait for the broadcast message to send at your scheduled date and time!

The dumbChat System
dumbChat is an instant social communication platform that integrates WhatsApp, website Chatbot, Facebook and WeChat. It allows communication with customers through different instant messaging apps on one platform and also supports multi-user login.
dumbChat provides convenient message management with features such as multiple logins, scheduled broadcasts, keyword auto-replies, task delegation, tagging and quick replies. It stores customer data, preferences and status, improving customer service efficiency. The AI chatbot provides 24/7 service, saving a lot of time and costs, and allowing employees to focus on more complex customer service tasks. The data analysis feature provides insights such as customer sources, purchase records and chat data analysis reports, helping businesses understand customers, seize opportunities and explore potential clients.
>>Learn More WhatsApp Marketing Tips
Last Updated on 2023-11-02