WeChat is also gaining popularity in Hong Kong, and the number of WeChat Pay users in Hong Kong has exceeded 3.8 million. Many businesses use WeChat to communicate with customers. Like WhatsApp, WeChat can be used on computers as well through Wechat Web and WeChat Windows, so what are their functions and what's the difference between them?
dumbChat.AI is a system that connects and integrates your social media and instant messaging accounts such as WhatsApp, FB messenger etc.. The intelligent robot can quickly respond to customer needs, automatically process orders and speed up transactions. Click here for pricing details.
WeChat Web Version
WeChat previously launched a web version, and followed by the desktop version. As a result,WeChat Web version began to be updated less frequently. An error message of "for the security of your account, you cannot log in to WeChat for Web. You can go to https://wechat.com/ to download the WeChat app and log in." may pop up if you try to login on Web version.

According to official WeChat's reply, WeChat made security policy adjustments to the Web version of WeChat from time to time. If you receive a security warning while logging in to the WeChat Web version, WeChat would suggest you to login using alternative ways. As a result, WeChat Windows version is commonly used and begins to replace the Web version now.
WeChat Windows Version
WeChat Windows version 1.0 was first launched in 2015, and now the latest update is version 3.7.0 which has many features to facilitate users. Compared to WhatsApp, WeChat has different features.
Download WeChat Windows Version
You can downloadWeChat Windows Version from WeChat's official website. Simply download the installation file, open it and follow the prompts to complete installation.
WeChat Windows version edition – ForMac
WeChat Windows version edition – ForWindows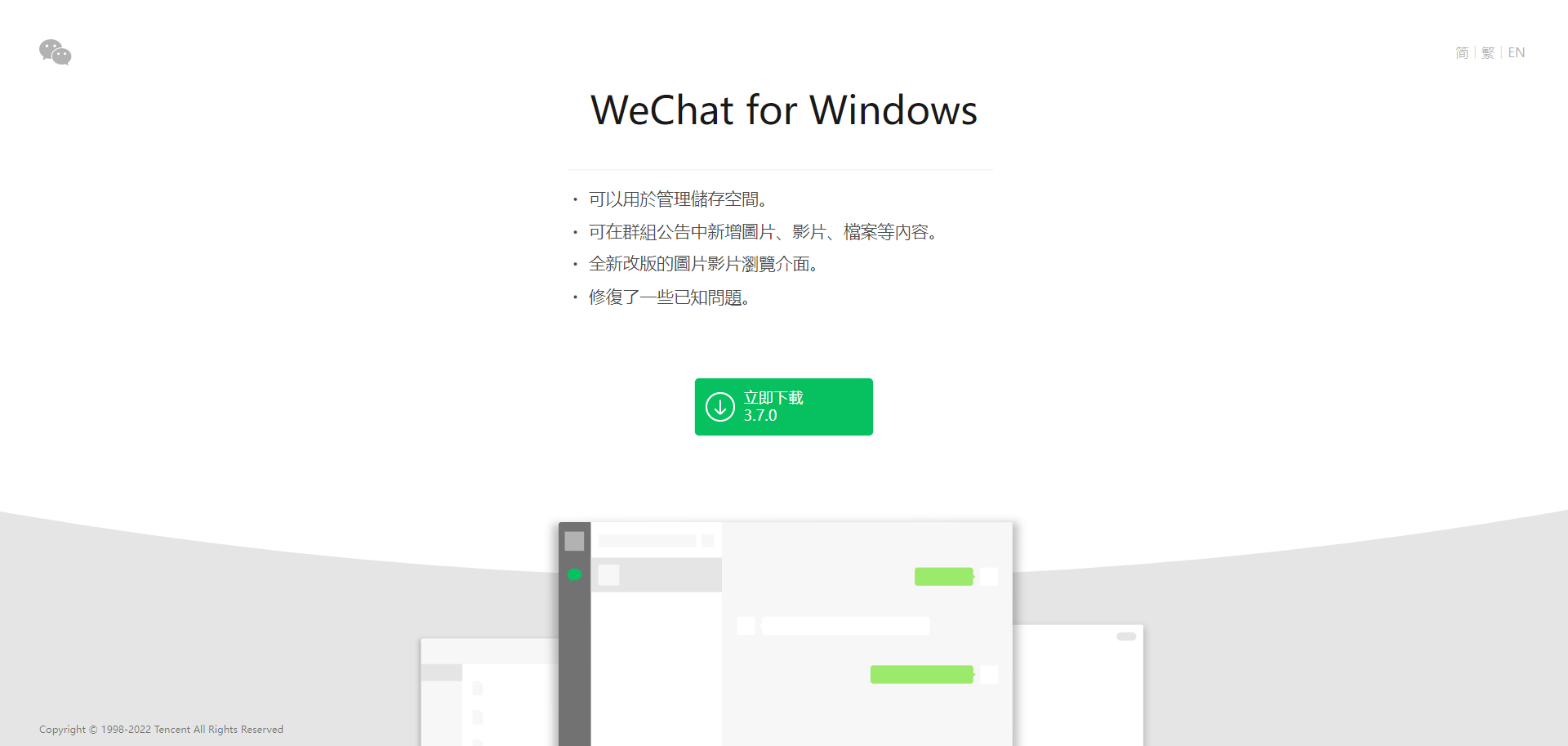 Login WeChat on Windows Version
Open WeChat for Windows after installation. If you are logging in for the first time, you need to scan the QR Code with WeChat on mobile first. Click on the sign in the upper right corner of WeChat on mobile and select "Scan". After scanning the QR Code shown on the WeChat Windows version using your mobile, follow the prompt shown in the following screenshot, click login to begin using WeChat Windows version.
If this is a frequently used computer, you can enable "Automatically log in on this device", and then you can log in to WeChat Windows without scanning the QR code. If you wish to sync the chat history on your mobile to the WeChat Windows version, you can enable "Auto-sync messages".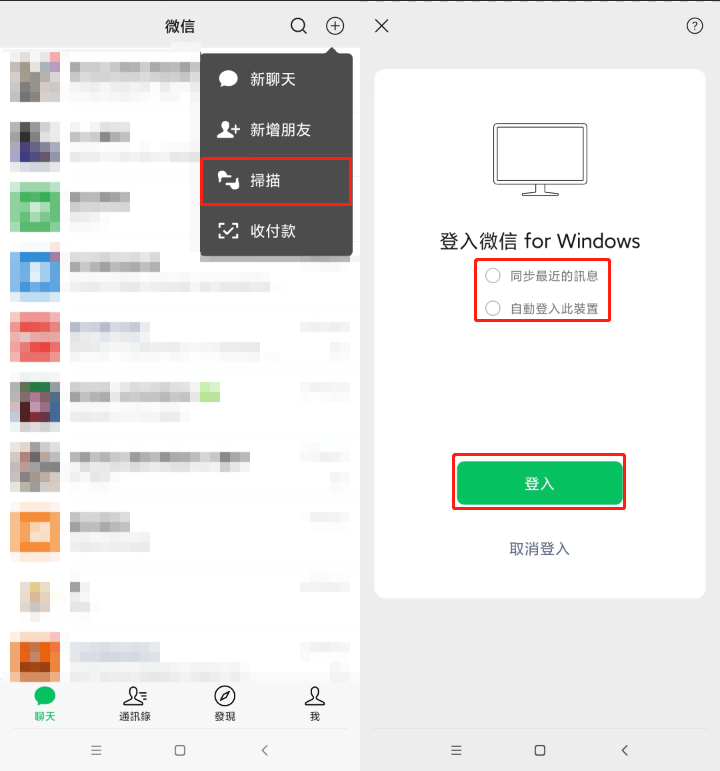 After logging in the first time, if you log in again, you don't need to scan QR Code. After opening the WeChat computer version, you can log in directly by clicking Login to confirm on your mobile phone. If you need to switch accounts, you can also directly click "Switch accounts" in the lower left corner. If you wish to transfer files, you can simply click "Transfer files only".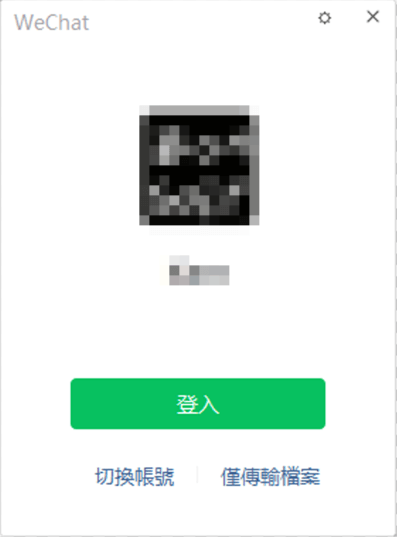 WeChat computer version function
With the update of the computer version of WeChat, there are more and more functions. Many functions of the mobile version of WeChat are synchronized to the computer version. Let's introduce all the functions of WeChat computer version one by one.
Individual Chat Function
Like all chat applications, the most basic function of WeChat computer version is to chat with others, and the individual chat function of WeChat computer version is also very mature. It can send text, photos, videos, emoji, stickers, files, etc. as well as supporting voice and video calls.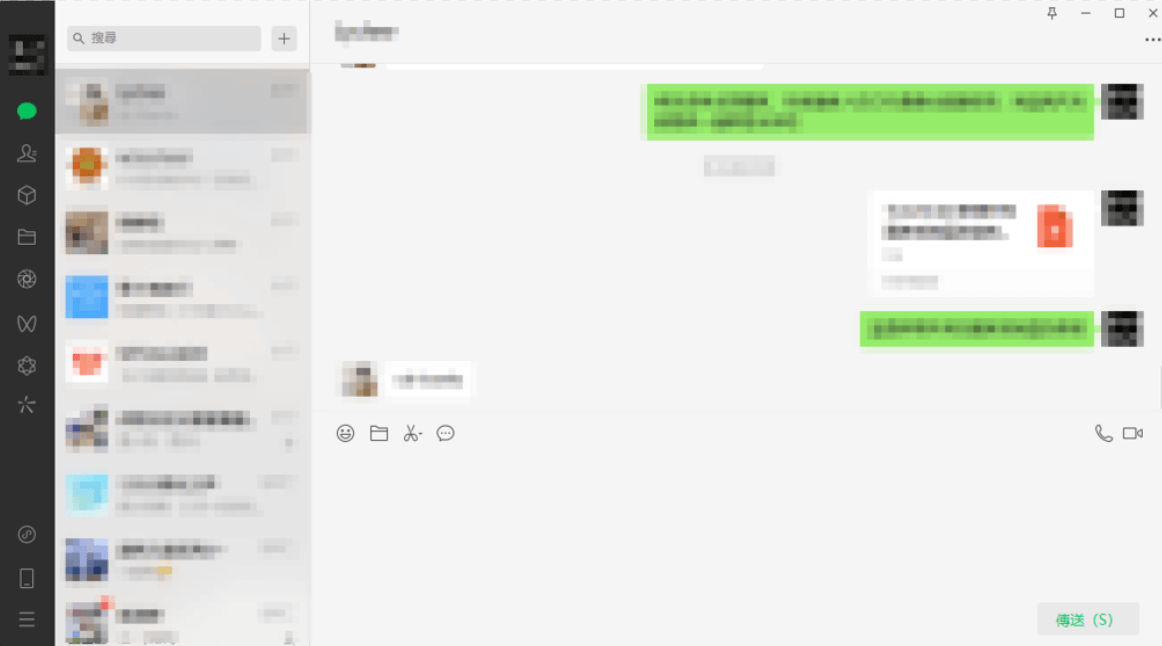 Group Chat Function
Group chat is one of the most fundamental features of WeChat. A group can add up to 500 members. Below 40 people, as long as the members that you add are your friends, you don't need their consent before adding them to the group. After your group exceeds 40 members, this will send an invitation instead of immediately adding them in. There are two ways to invite others to join the group. One way is to scan the QR code. Users can scan a group QR Code to join a group.
When a group chat exceeds 100 members, additional members can't join the group by scanning the group QR Code, they must be invited in order to join.
WeChat computer version is the same as normal individual chats. You can also directly send text, photos, videos, emoji, stickers, files, etc. as well as supporting voice and video calls with multiple people.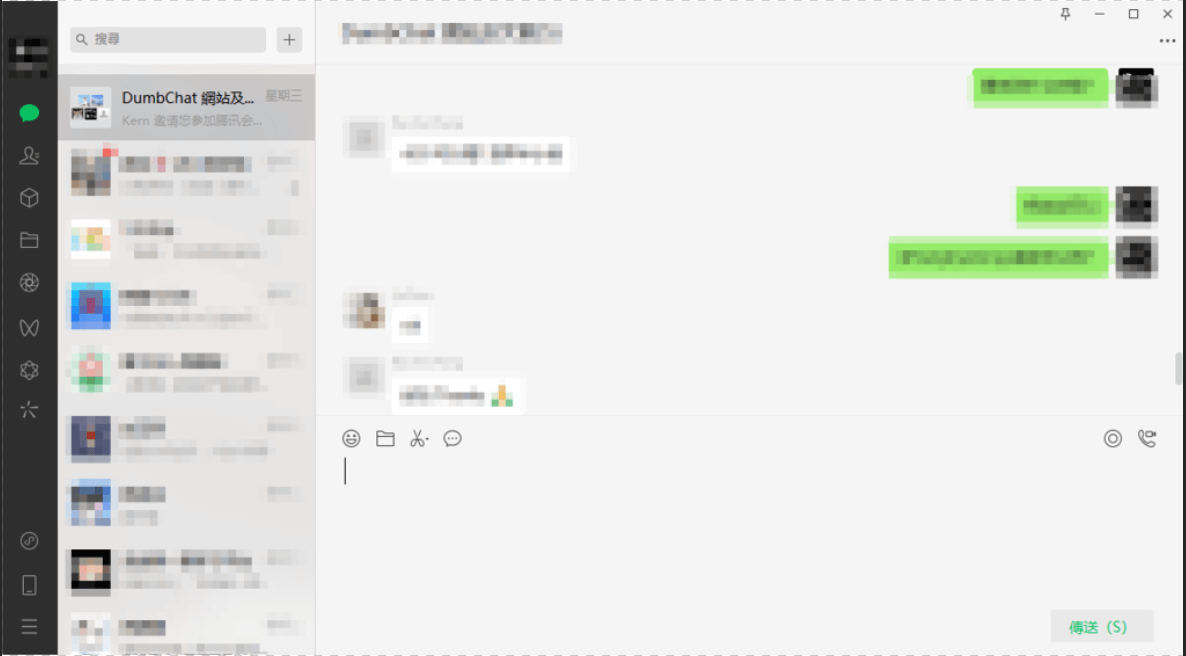 Screenshot Tool
WeChat comes with a screenshot tool, and the shortcut key is Alt+A. As long as you are logged into the WeChat desktop, you are able to use this function. The screenshot tool allows you to capture and send an image of your screen with simple editing, such as adding boxes, circles, maps, emoji, mosaics, text, etc., or directly draw on the image.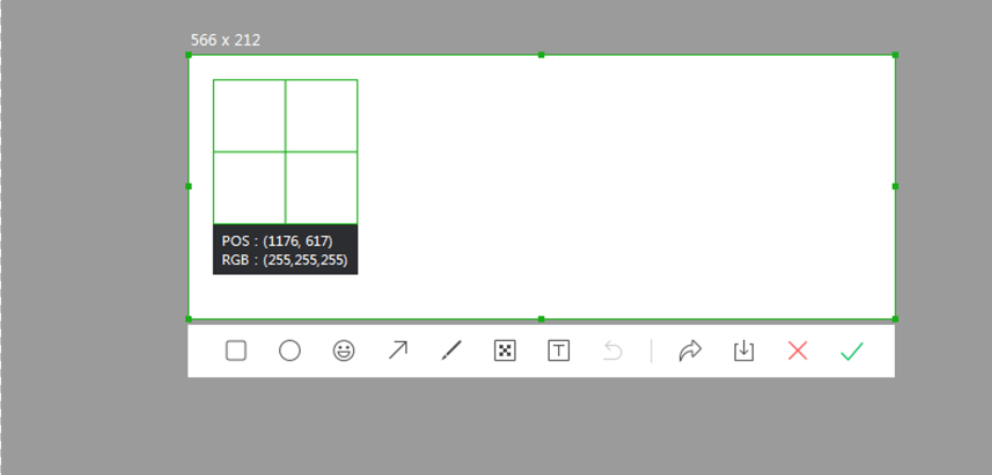 WeChat Moments
Moments of Friends is also a special feature of WeChat, which is only available after the update of the Wechat desktop version in 2021. You can browse moments of friends on the WeChat desktop version, "like" and "comment" on your friends' posts.
Backup WeChat Chat History
Chat history is essential for daily life or business activities. Like WhatsApp, the chat history of WeChat will not be saved automatically, while it is saved on the mobile phone or computer. If there is no backup, only chat history while logged in will be saved. However, WeChat can directly back up the chat history on the mobile phone to the computer. Click the three horizontal lines menu from the left bottom corner. Select "Backup and Restore" > "Back up on PC". You can choose to backup or restore according to your needs.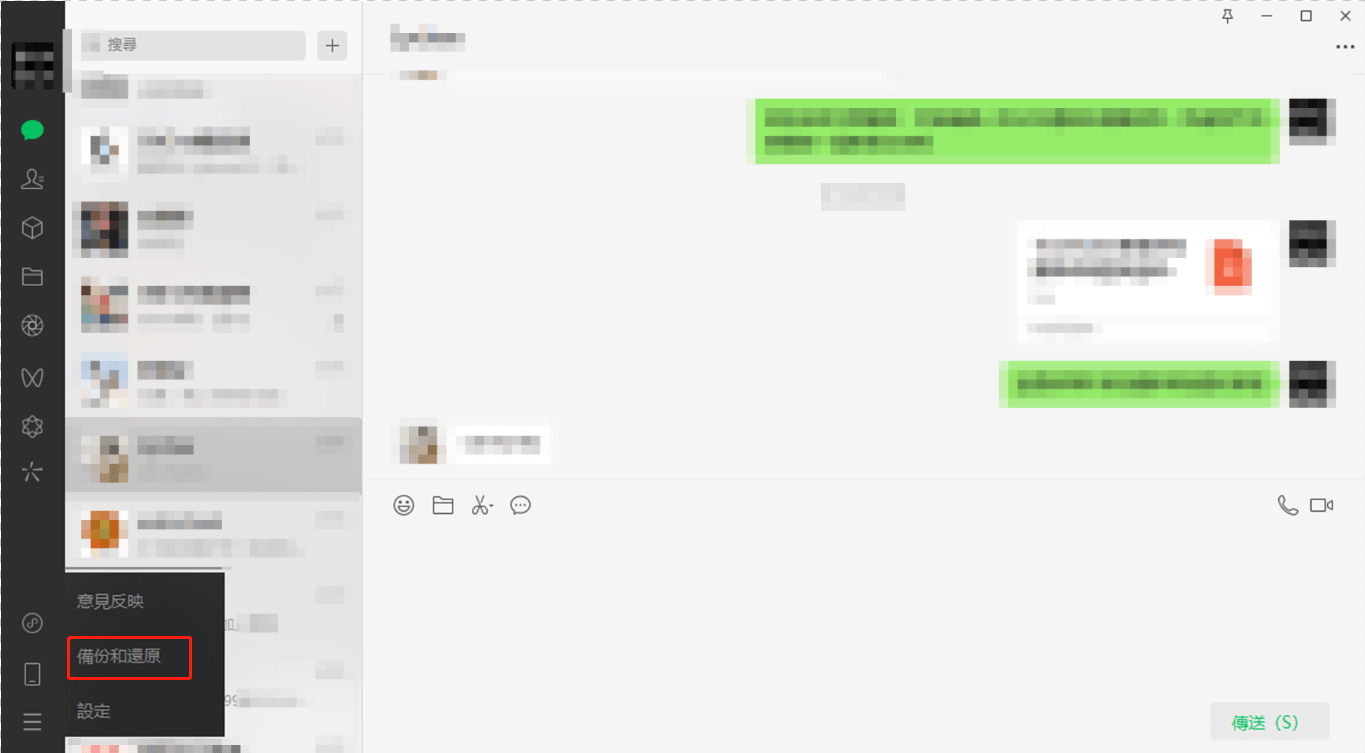 WeChat Official Account
WeChat official account is another stunning feature of WeChat. If you wish to market your product on WeChat, WeChat official account is definitely a way that merchants wouldn't want to miss. You can view the information of articles published by WeChat official account on the computer version of WeChat.
Search
You can directly search for information such as WeChat official accounts, articles, news, mini programs and videos, as well as moments of friends, etc. using this function.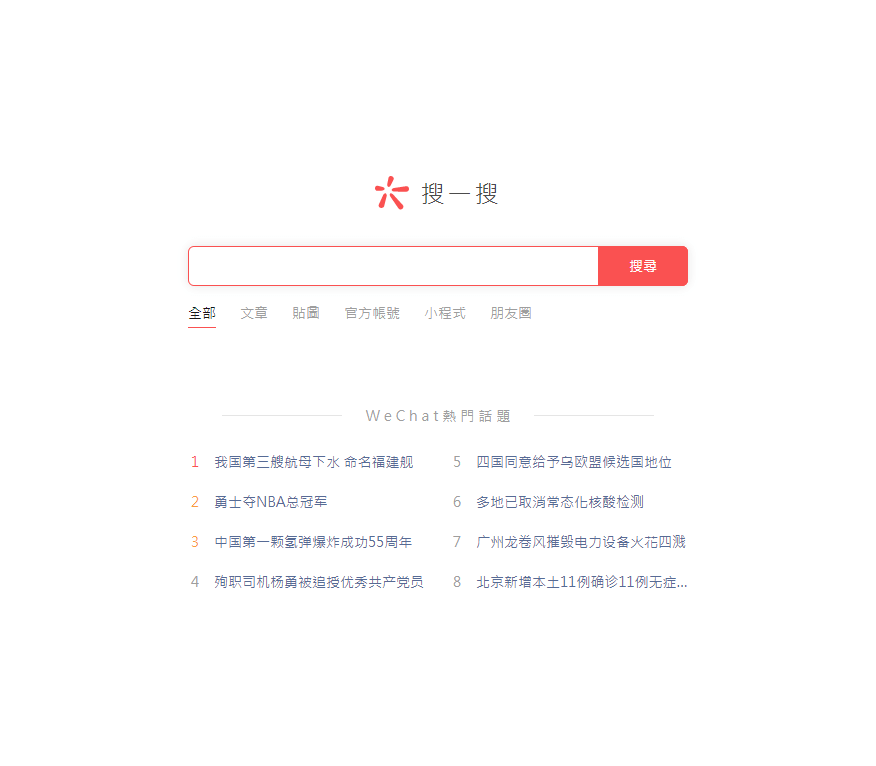 WeChat Chat Files
Though WeChat is known for its messaging and calling features, you should never miss its files transfer application, which will ease your life to some extent. Sometimes finding the right file can be frustrating, especially if you have a large number of files. WcChat for Windows has introduced a function, WeChat chat files, which you can directly view all the files sent and received on WeChat, or directly search for file names or filter them according to conditions.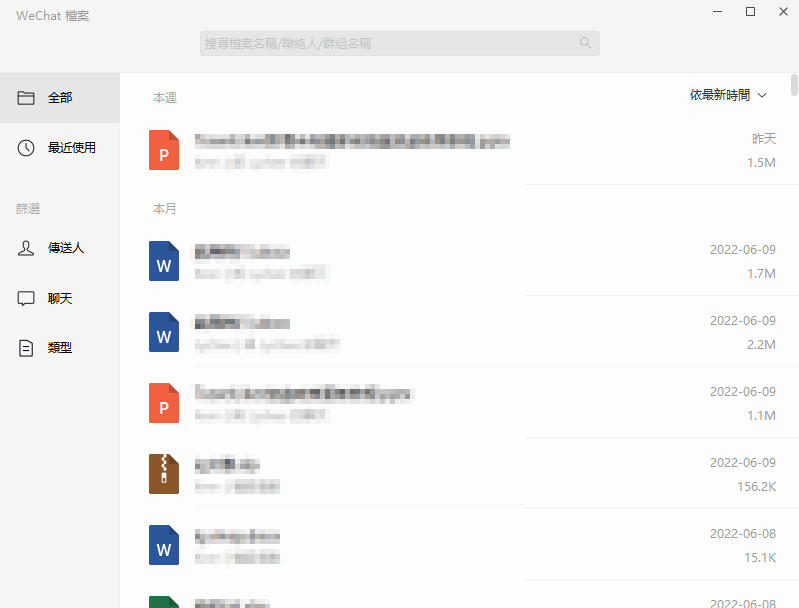 Last Updated on 2023-07-06