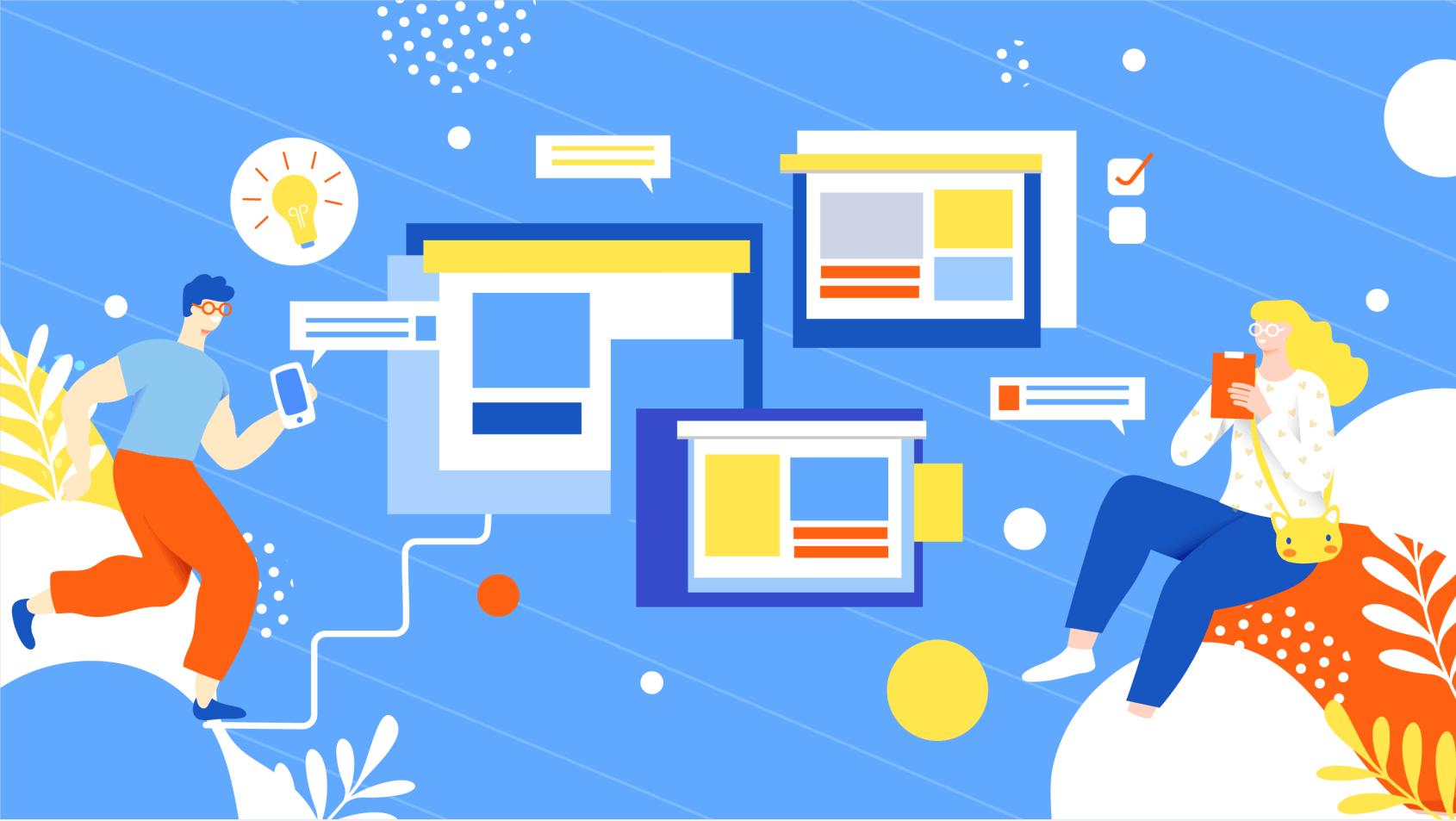 WhatsApp is undoubtedly one of the most commonly used instant messaging apps in Hong Kong, everyone in Hong Kong has WhatsApp on their mobile phones, and many businesses use it to stay connected with their customers. Sometimes chat history could be lost due to broken mobile phones by accident, switching to a new mobile phone, and encountering problems with WhatsApp, etc., as a result, files might be lost. If there is backup for chat history, conversations can be recovered even if the chat history record is lost.
dumbChat.AI is a system that connects and integrates your social media and instant messaging accounts such as WhatsApp, FB messenger etc.. The intelligent robot can quickly respond to customer needs, automatically process orders and speed up transactions. Click here for pricing details.
Facebook messengerandInstagramare slightly different from WhatsApp as the accounts are automatically backed up to the cloud, you will only need to log in to your account to retrieve chat history. On WhatsApp, you will lose all your conversations if the phone is no longer working and there is no back up. Therefore, chat backup is essential!
Backup WhatsApp on iPhone
Backup Whatsapp on iPhone
To setup a WhatsApp backup successfully and ensure conversation history is backed up on iCloud, please be mindful of the following:
Backup WhatsApp chat history on iCloud for iPhone users is convenient and safe.
iPhone users can simply backup important chat history, access and them whenever they want.
To ensure your chat history is successfully backed up, please confirm that your iPhone has logged into an iCloud account which has sufficient storage.
Since the size of data being backed up and recovered by WhatsApp could be large, we recommend you perform the steps above when connected to Wi-Fi to reduce data usage.
To backup WhatsApp on iPhone, go to Settings >Chats > Chat Backup > Back Up Now;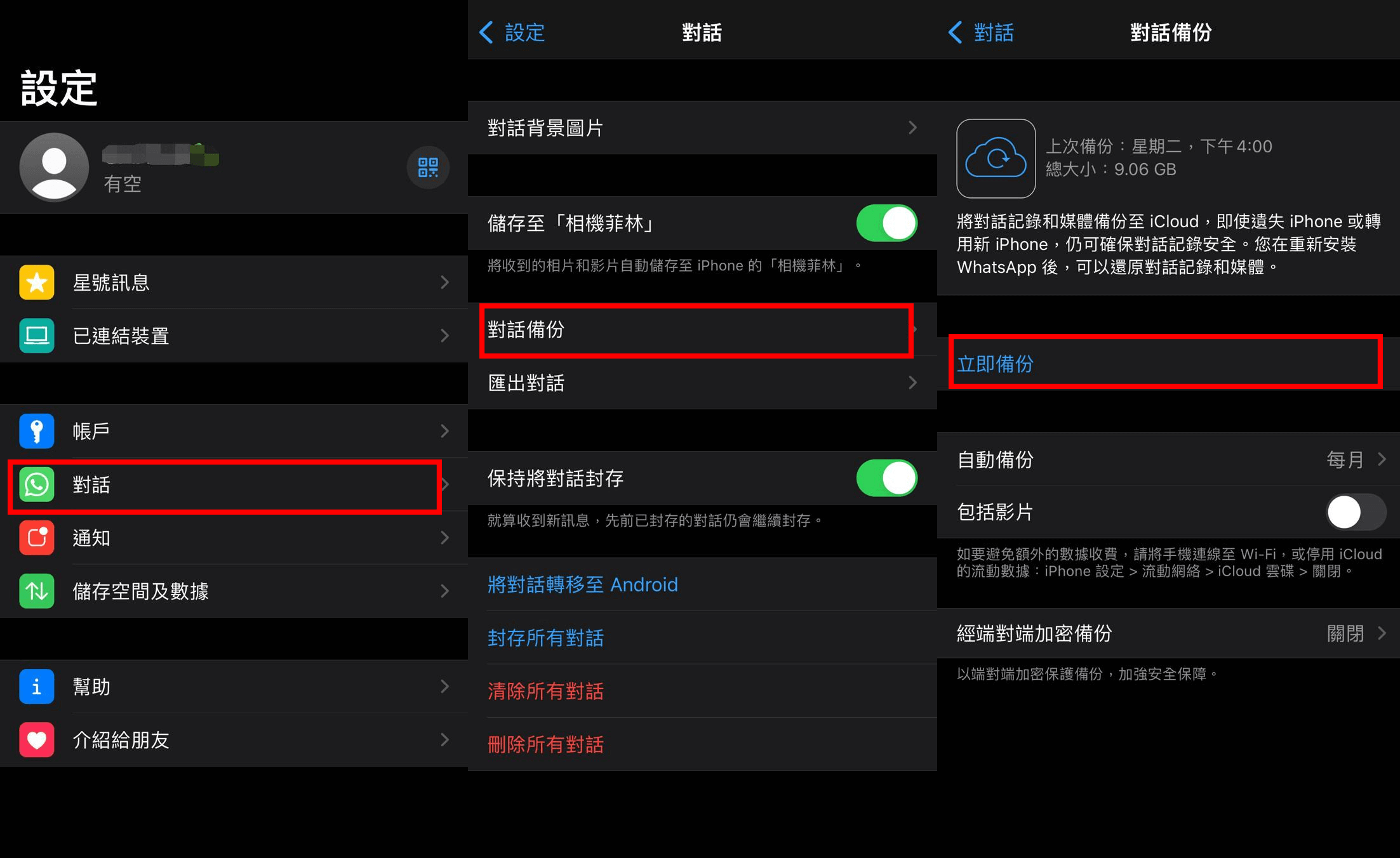 Restore Backup on iPhone
If you have backed up WhatsApp chat history on iCloud using your iPhone, history can be easily restored on your new iPhone:
Log in the iCloud account that you used to backup your WhatsAPp chat history on the new iPhone.
Install and open WhatsApp on your new iPhone.
Log in with the mobile phone number that you registered for WhatsApp.
Follow the prompts to restore your chat history. After clicking Restore, the system will start restoring the backup data.
 Please note that any conversations between reinstalling WhatsApp and restoring the backup will be overwritten and deleted.
WhatsApp Backup WhatsApp on Android
Backup WhatsApp on Google Drive
Unlike IOS system, backup on Android phones is saved inGoogle Drive. The mobile phone has to be connected to a Google account while using.
Steps: Settings > Chats > Chat backup > BACK UP;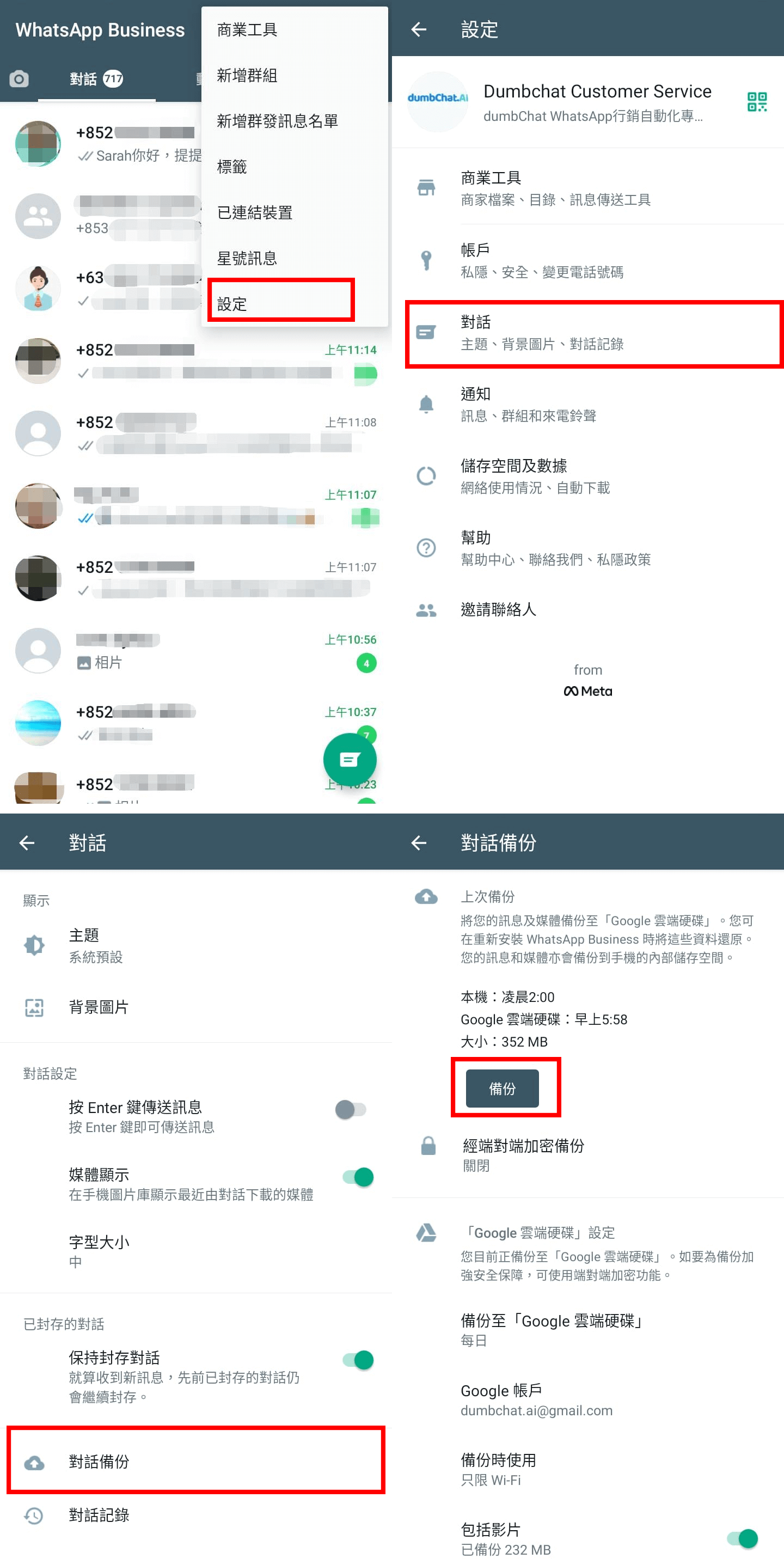 Restore Backup on Android
When the Android phone is connected to a Google account, the backup will be automatically uploaded to the Google Drive. You may log in to the corresponding Google account on the mobile phone to restore conversations from a Google Drive backup.
Steps to Backup and Restore on an Android Device:
Install WhatsApp on your new Android device;
Open WhatsApp and log in with your mobile phone number;
The system will prompt you to restore the backup. Tap "Restore" and you will begin to restore the backup from Google Drive.
How to Automatically Backup WhatsApp Chats
Although you may choose to manually back up your chats at any time, WhatsApp's automatic backup feature could make life easier! Steps to set up automatic backup:
Setting on iPhone: Settings >  Chats > Chat Backup > Auto Backup;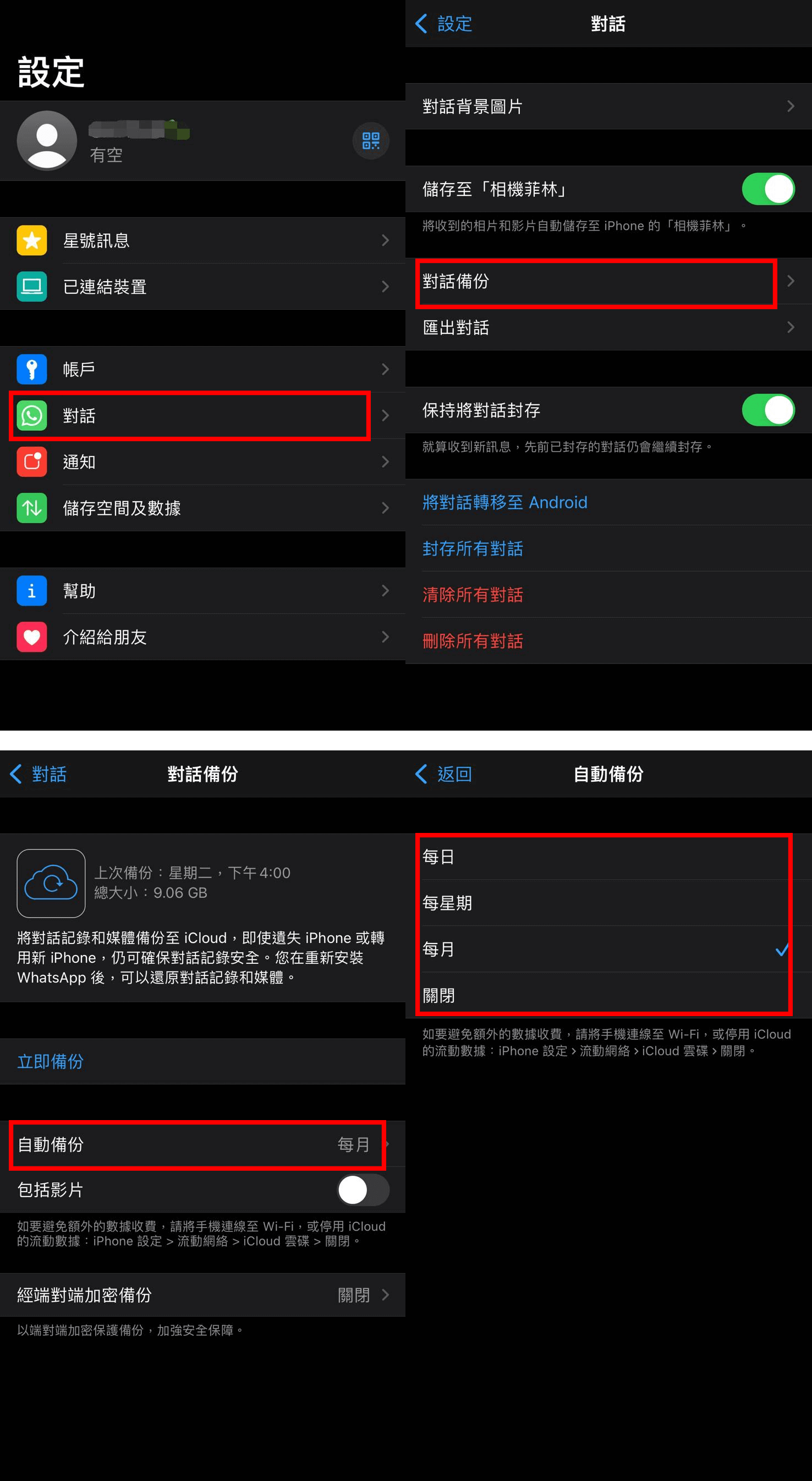 Setting on Android Device: Settings > Chats > Chat Backup > Backup to Google Drive.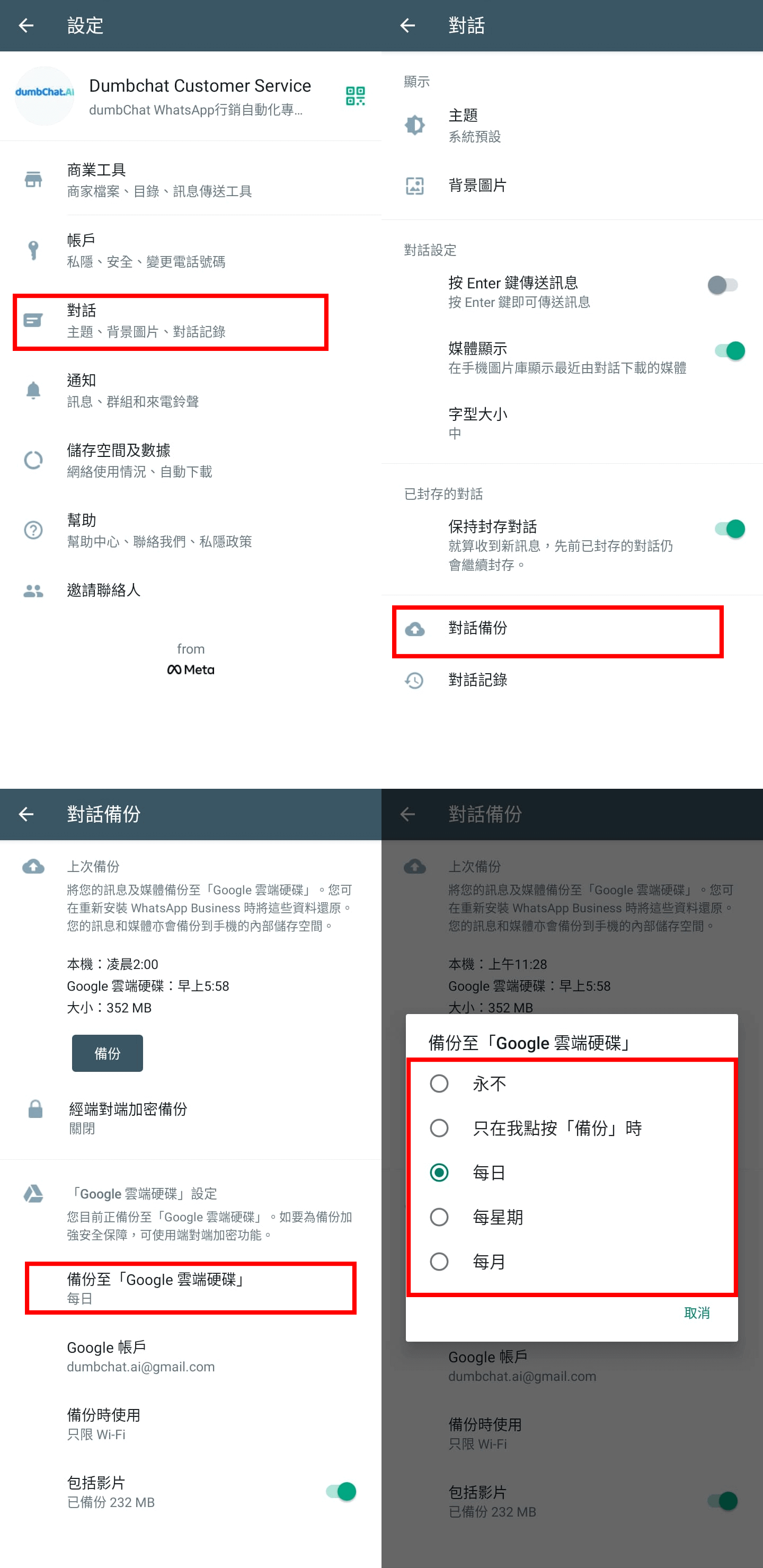 Select Daily, Weekly or Monthly option, depending on how frequently you would want WhatsApp to automatically Backup your Messages and Photos.
Cross-Platform Backup on WhatsApp
There could be occasions that we switch between Android devices and iPhone and you may notice that the backup cannot be transferred between Google Drive and iCloud ecosystems. Backup and restore chat history on WhatsApp within the same ecosystem is easy, however cross-platform transfer requires help of third-party paid tools, such asiCareFone TransferUnfortunately, these paid tools are finicky to use and may not be able to transfer chat history completely.
Recently, WABetaInfo announced WhatsApp was rolling out a new update WhatsApp beta for Android 2.22.13.11, which is "export chat". This feature enables backup and export of all conversations and media files.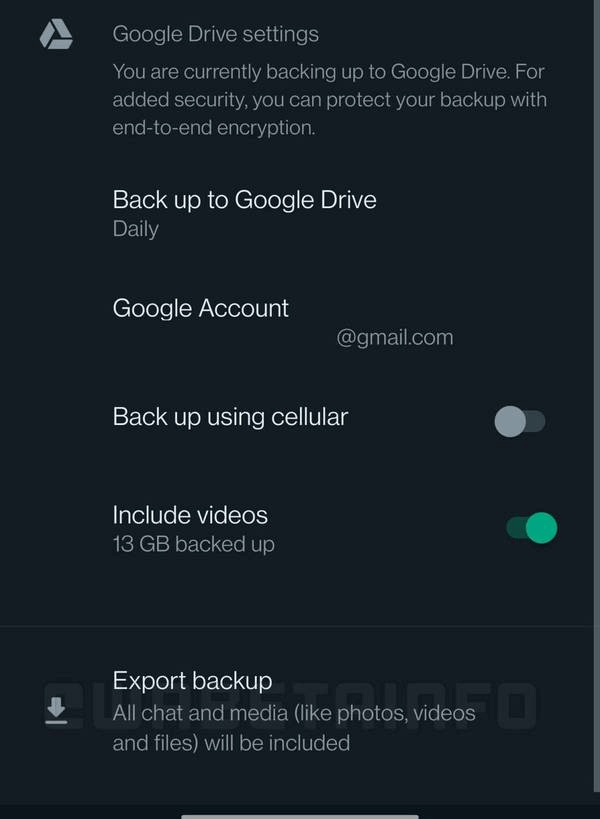 WhatsApp is currently testing new backup features. If the testing is passed, it will launch the "Android to IOS" feature, and hence rolling out the official cross-platform backup function.
Frequently Asked Questions
Unable to Create a Backup on WhatsApp
If you encounter problem when backing up WhatsApp, try the following troubleshooting steps:
Whether you are logged into Google account on your mobile device;
Whether Google Play services is installed on your device;
Whether the network of mobile phone is stable.
Unable to Restore the Backup
If WhatsApp fails detect available backup after reinstalling, try the following troubleshooting steps:
Whether Google Play services is installed on the mobile device;
Whether there is sufficient memory on the mobile device to restore the backup;
Whether the mobile network is stable;
Whether the WhatsApp account you logged in is the same as the Google account that backup was created.
WhatsApp Backup Stuck
It is possible that the backup is stuck and not moving ahead, try the following troubleshooting steps:
Whether the mobile network is stable ;
Whether WhatsApp's automatic backup function is disabled;
Whether there is sufficient storage in iCloud or Google Drive
The above are the most common issues causing WhatsApp backup stuck. If the troubleshooting tips do not resolve you issue, try the following methods:
Clear your WhatsApp cache data;
Update WhatsApp orGoogle Play service;
Restart the phone.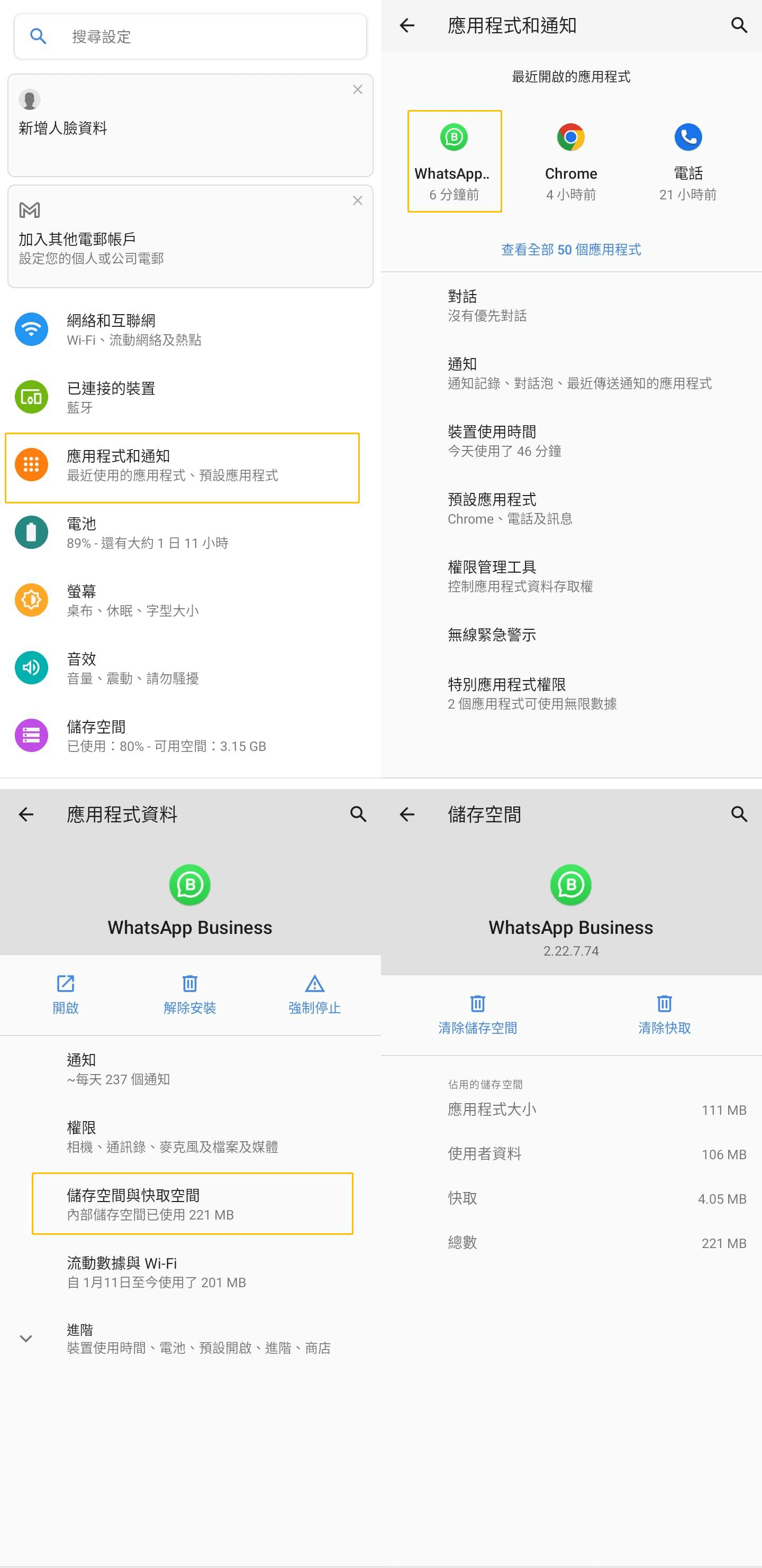 DumbChat dialog backup
Although WhatsApp backup is a powerful feature, there are problems such as WhatsApp not being backed up automatically, chat history being overwritten while restoring the backup and limited space on iCloud and Google Drive.
The most inconvenient thing is that a WhatsApp account could be blocked if businesses use it for marketing purposes. Even if you have a backup, you may not be able to restore the chat history with customers. It is fine if the WhatsApp account is unblocked. However, WhatsApp official could refuse to lift the ban and all your customer information and data would be lost, which is an irrecoverable loss to businesses.
If you log in to your WhatsApp account through dumbChat, we will back up the chat record in real time. You will still be able to review and retrieve chat history between customers and customer profiles on dumbChat even if your account is banned and therefore prevent data loss. All of your conversations will be automatically saved on dumbChat's cloud server and they are safe with us.
>>Learn More WhatsApp Marketing Tips
Last Updated on 2023-03-31